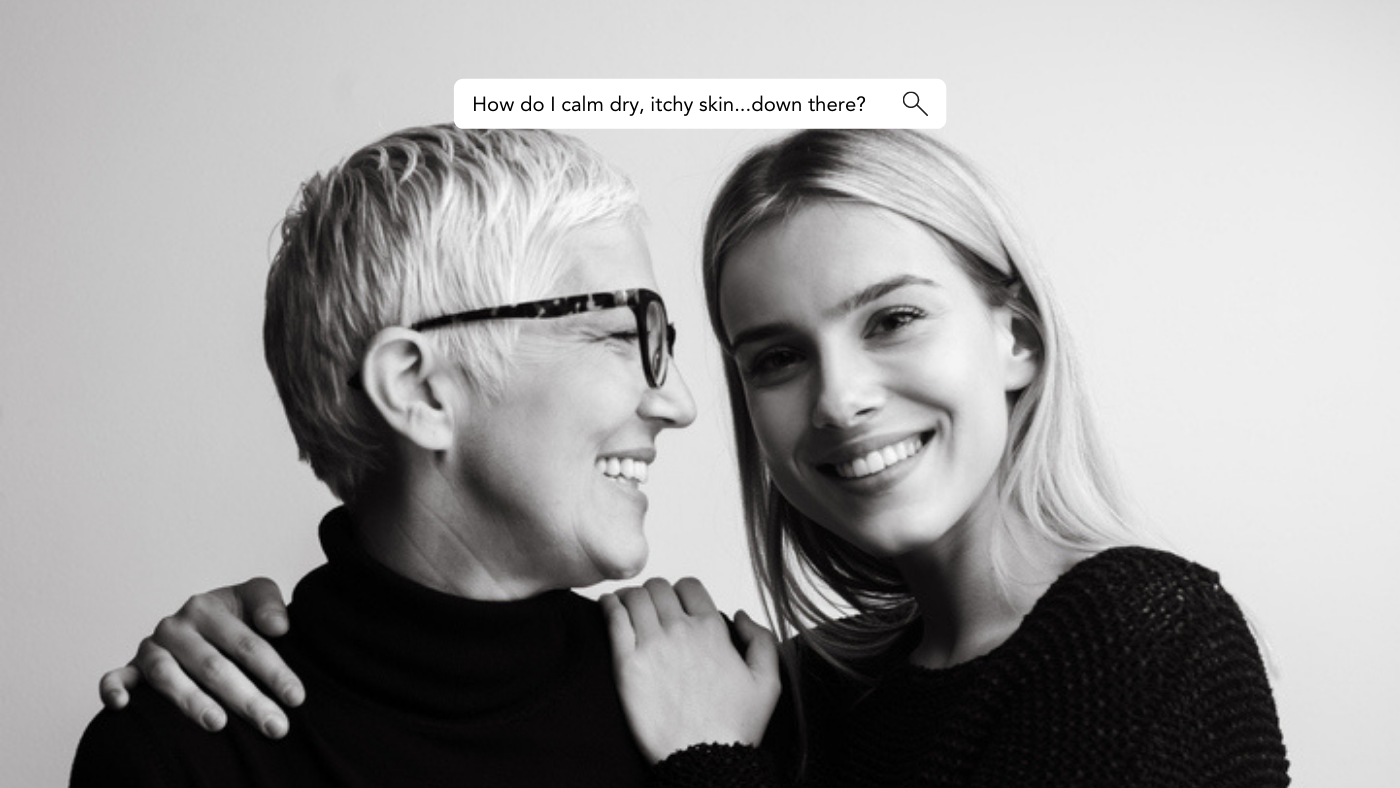 THIS IS YOUR SPACE, YOUR QUESTIONS — ANSWERED 
Our mission to de-stigmatize intimate skin health has never been sweeter. Knowledge is power and our new educational series is intended to give you everything you need (and want) to know about intimate skincare and how your sweet spots work. From truths, tips and trivia, to how to use our products and why—we're committed to helping you take control of your entire wellbeing—because when your sweet spots are out of whack, it affects everything. 
Q: What causes vulvar dryness?
A: Fun Fact: The vulva has more moisture than other skin, with some incredible natural defenses against moisture loss, such as pubic hair, the microbiome, acid mantle and lipid barrier. 
Still, there are several factors that can contribute to lost moisture, ranging from lifestyle to lifecycles: 
Routine pubic hair removal

Regular use of soap with a high-pH (anything above 7) and potentially irritating ingredients + allergens such as high-fragrance, sulfates, parabens, and essentials oils

Prolonged heat or wetness

Constricted clothing (hello WFH yoga pants!)

Decreased estrogen – whether cyclical such as during menstruation, pregnancy, post-partum or breastfeeding, or more permanent through the aging process – can cause the skin barrier to become weaker and therefore lose natural lipids
Skin conditions such as eczema or lichen sclerosus
​Q:

 

What can I do to relieve symptoms of dryness

?

​
A: Moisture loss in the vulva can lead to irritation, flaking, and itch. A water-free balm, which delivers oil directly to the skin without the need for preservatives, can deliver intensive and long-lasting moisture. 
To help provide immediate and lasting relief, we've chosen to formulate Rescue Balm with concentrated, ultra nourishing Shea Butter (19%) and Sweet Almond Oil (11%), plus soothing + protective ingredients at active levels such as Allantoin (1%), Colloidal Oatmeal (2%) and Zinc Oxide (9%). 
Tip : Because Rescue Balm does not contain water, it's best used while the skin is still damp from bathing, to seal in moisture.
​Q:

 

What can I do to prevent dryness? 

​

​
A: Here are a few tips to restore healthy intimate skin and avoid future damage: