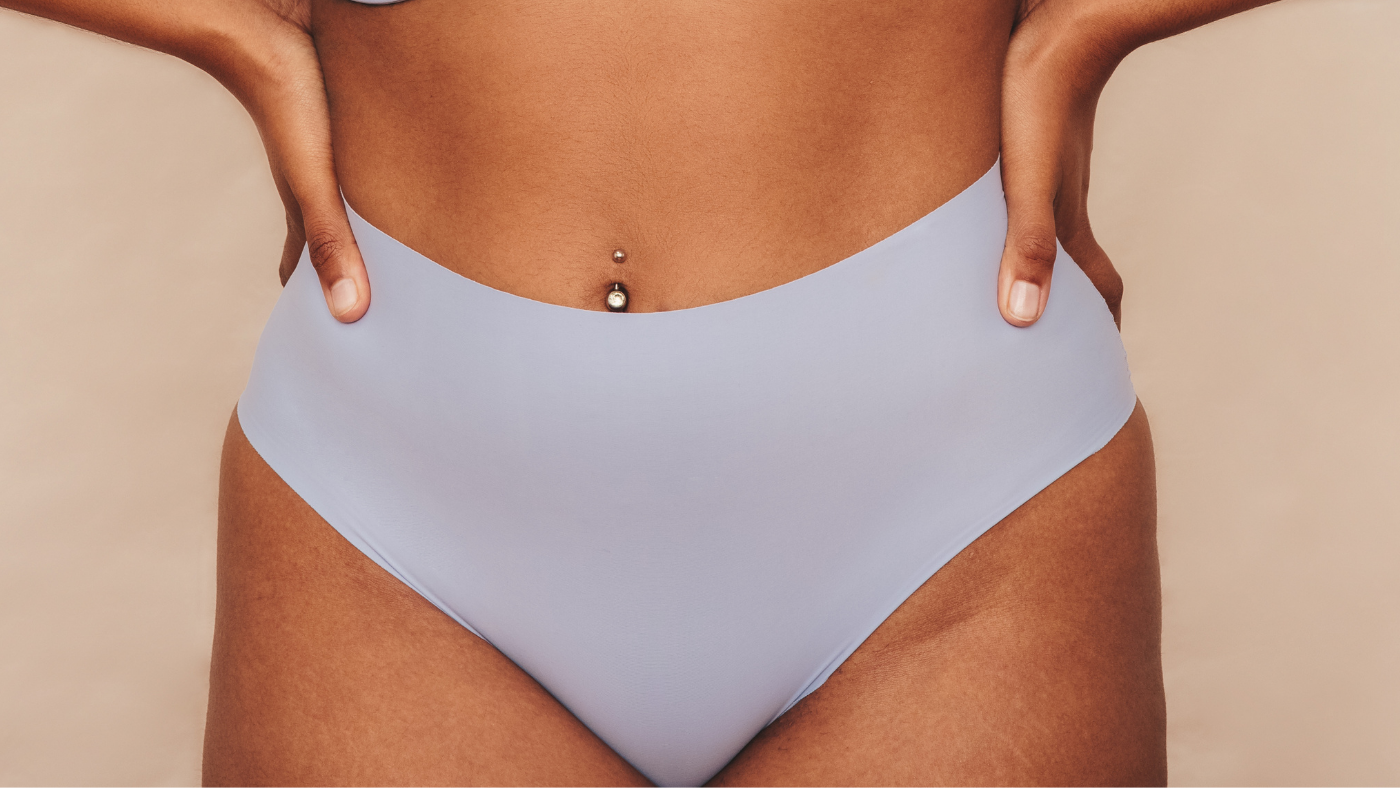 We're big fans of regular vulvar self-exams. Like HUGE fans. Why? Because the first step toward healthy intimate skin is knowing what's normal for you and what's not. If you come across something unusual when scoping things out, always consult your doctor for proper diagnosis and treatment.
Dr. Tamika Cross, OBGYN, says"If you have a bump, get it checked out. Even if you think it's something benign, if left untreated it could turn into something more serious down the road. If it's not going away, or not getting better with treatment, seek help."
Here are some common bumps you might find down there and what you can do about them.
1. Ingrown Hair
What is it?
If you shave or wax your bikini area, it's totally normal to see an ingrown hair down there from time to time. After the hair removal process, your hair starts to grow back. Normally, it grows outward and breaks through the surface of the skin, ready to be shaved or waxed again. But sometimes, that hair takes a wrong turn somewhere and curls under itself, continuing to grow inward while trapped under the skin.
What does it look like?
Ingrown hairs can come in ones or clusters that tend to look like pimples - small, solid round bumps in the areas you shave or wax. For some, ingrowns look like a dark spot on the skin's surface and can come with itching.
What can I do to get rid of ingrown hair?
First, apply Bikini + Body Bump Eraser to target that ingrown hair bump and leave skin clear, calm, and smooth. Then, follow it up with gentle exfoliation. The AHA & BHA in Buff & Brighten help prevent new ingrown hair from forming. 
2. Razor Bumps
What are they?
The term "razor bumps" is a common way of referring to a cluster of ingrown hairs. Razor bumps can pop up anywhere you shave or wax - that includes your legs, underarms, bikini line or pubic area. 
What do razor bumps look like?
A cluster of red, raised bumps that may be itchy or painful. For melanin-rich skin, razor bumps may appear dark.
How to treat razor bumps on pubic area:
Check out these tips for razor bumps, or shop clean, effective solutions from SweetSpot Labs.
3. Folliculitis
What is it?
Folliculitis is an infection or inflammation of the hair follicle. When the follicle is infected by bacteria, it's called bacterial folliculitis. When it's caused by fungi or yeast, it's called fungal folliculitis. 
What does folliculitis look like?
Bacterial folliculitis tends to look like white, pus-filled bumps that closely resemble whiteheads/pimples and itch. Fungal folliculitis (aka fungal acne) shows up as chronic red, itchy pustules.
How to get rid of folliculitis fast:
Mild cases usually clear up on their own, but if you're caught in a frustrating cycle, check your personal care products! Certain ingredients may be feeding fungal folliculitis. Bikini & Body Bump Eraser clears bumps quickly and Microbiome Balancing Cleanser keeps them from coming back. Both are free from common yeast food sources.
4. Cysts
What are they?
The glands at the opening of the vagina that provide our natural lubrication can sometimes become clogged and form a cyst known as a bartholin gland cyst. Inclusion cysts are common after vaginal birth. When tearing or other injuries heal, tissue may become trapped under the surface, resulting in a cyst.
What do they look like?
Cysts are small, sac-like bumps that may be fluid-filled.They are white or yellow and usually less than 1/2 inch in diameter. If infected,cysts may be red and tender and make sex painful.
How are they treated?
Cysts are benign and often go away on their own, but can be quite annoying especially if they become infected. Your medical provider can guide you toward the treatment protocol that's best for you. 
5. Fordyce Spots
What are they?
Fordyce spots are sebaceous gland cysts that are often painless and not harmful. They can appear anywhere you grow hair, and are most commonly found on the face, scrotum, or labia majora.
What do they look like?
Fordyce spots are small, raised, pale, red or white spots or bumps that are 1-3 mm in diameter.
How are they treated?
Treatment isn't typically needed, but contact your medical provider - probably a dermatologist - if you're concerned.
6. Skin Tags
What are they?
Skin tags are benign, noncancerous, skin tumors. They appear most often in areas where skin rubs against itself or clothing - like along your bikini line, under the breasts, or under your armpits.
What do they look like?
Like the name suggests, skin tags are small bits of soft, hanging skin that may have a stalk.
How are they treated?
Skin tags are harmless, but your doctor can remove them if they bother you!
7. Molluscum (Water Warts)
What are they?
Molluscum contagiosum (aka "water warts") is a viral infection of the skin that can appear on the legs, arm, neck, genitals, abdomen and face.Risk factors include aweakened immune system, and atopic dermatitis.
What do they look like?
Molluscum looks like little pearls, small raised pink bumps with a dimple in the center.
How are they treated?
Water warts tend to go away on their own in a year or so, but your doctor can remove them if they're bugging you.
8. Genital Warts
What are genital warts?
Genital warts are caused by specific types of HPV (human papillomavirus), spread by sexual contact. 
What do genital warts look like?
Genital warts tend to appear as a cluster of small, rough, irregular-shaped, flesh-colored bumps that may itch.
How are they treated?
Genital warts are caused by a virus, which means you'll always have it, but it may not always be visible. Stress, pregnancy, and other lifestyle factors can trigger outbreaks. Your doctor may be able to remove them by freezing.
9. Vulvar Varicosities
What are they?
Vulvar varicosities are swollen veins, like varicose veins in your legs, except on your vulva. Some of us are genetically predisposed, but this condition is most common during pregnancy due to the increased volume of blood flow to the pelvic region.
What do they look like?
They show up as bluish bumps that can feel heavy.
How are they treated?
Vulvar varicosities can be treated by a vein specialist, but here are a few things you can do to minimize discomfort:
Apply a cold compress

Elevate your legs

Avoid sitting or standing for long periods of time

Try a support garment like 

this one
10. Genital Herpes
What is it?
An infection caused by the herpes simplex virus (HSV) that impacts the genitals. This STI is transmitted through direct contact with the skin or bodily fluids of an infected person, usually during sex.
What does genital herpes look like?
Many people have mild or no symptoms, and may not know they're infected. When an outbreak does occur, herpes looks like a small cluster of blisters or sores that tend to be painful. They're typically on or near the mons pubis, the clitoris, the anus, or other parts of the vulva.
How is it treated?
Although there is no cure, medication can help make breakouts shorter and less frequent. Always talk to your doctor for proper diagnosis and treatment. 
11. Lichen Sclerosus
What is it?
Vulvar lichen sclerosus is a benign, but often painful, skin condition that is likely autoimmune-related. It's most common during menopause, but lichen sclerosus affects approximately 1 in 70, with up to 40% of cases occurring during the reproductive years. 
What does lichen sclerosus look like?
Thick, white patches that are prone to tearing and intense itching.
How is it treated?
First things first, a biopsy is needed to diagnose LS before treatment can be prescribed, as it can be a precancerous condition. For more information on lichen sclerosus, we recommend expert resources like @jillkrapfmd from the Center for Vulvovaginal Disorders, @lichensclerosuspodcast, or @thelostlabiachronicles. 
For immediate relief from the dryness, stinging, irritation and itching associated with LS, look no further than Rescue Balm.
"I have tried everything to stop the horrible itching which would wake me up at night and just on a whim I decided to turn to SweetSpot [Labs]. After three years of suffering I finally found the pot of gold at the end of the rainbow, it's like I don't even have lichen sclerosus. I finally feel human again."

- Marge
12. Vulvar Cancer
What is it?
Vulvar cancer is incredibly rare, but early diagnosis is important.
What does it look like?
If you notice sores that don't heal within a few weeks, or sores that bleed, you should contact your medical provider.


Last reviewed November 2021.This website is for informational purposes only and not to be considered as medical advice. This information is not intended to diagnose, prescribe, treat, or cure any medical condition.