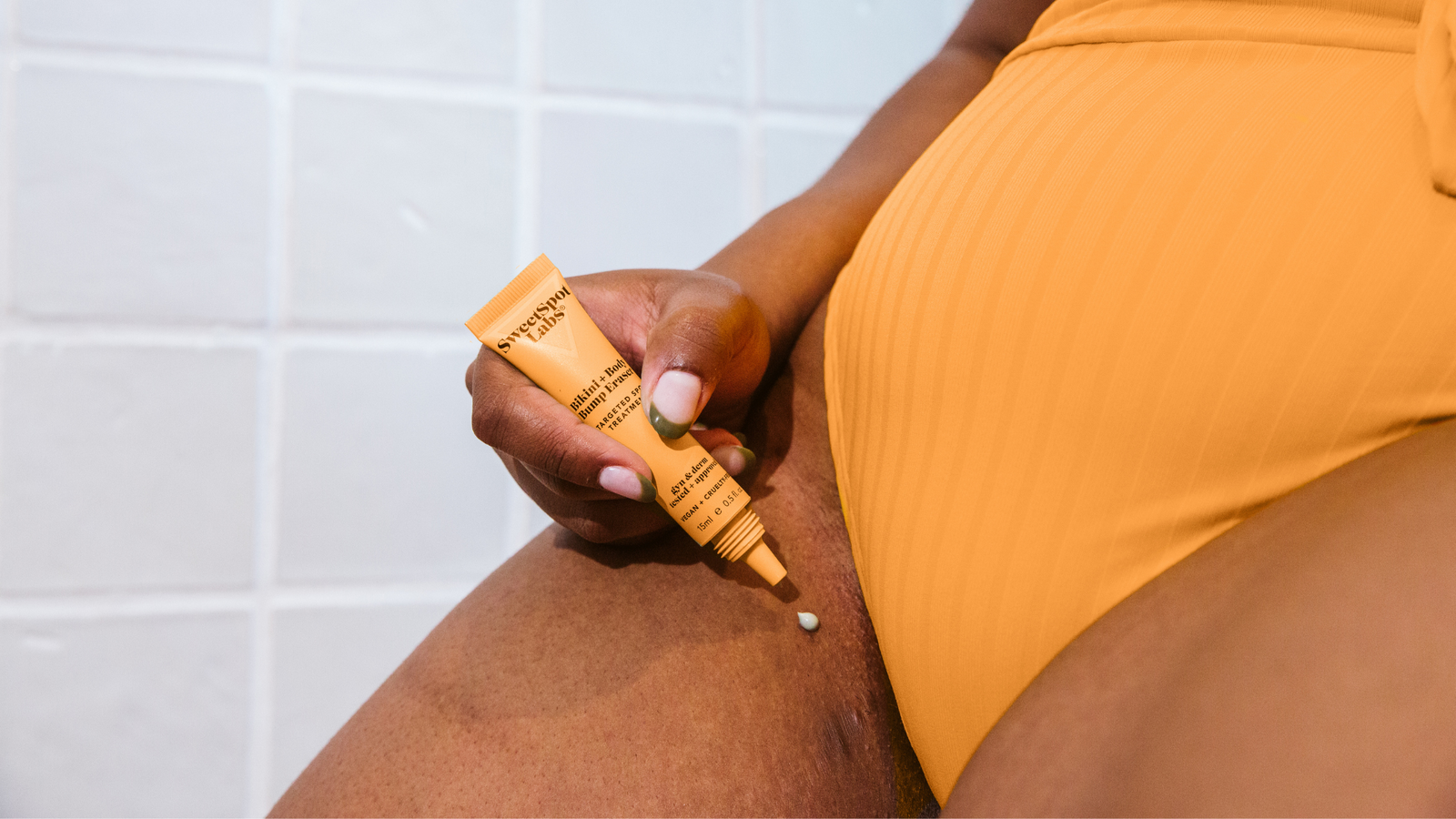 SweetSpot Labs Bikini & Body Bump Eraser is a game-changer when it comes to smooth, bump-free skin. Our award-winning spot treatment targets and treats common skin concerns like ingrown hairs, razor bumps, buttne, bacne, and more. It's your go-to solution for healthy, radiant skin that's ready for summer! Here are the top four ways to use it.
1. For Ingrown Hair
Ingrown hair - the nemesis of shavers and waxers everywhere. When a hair grows back inward rather than out, you're left with uncomfortable bumps on your skin. What to do? Apply Bikini & Body Bump Eraser ASAP. The exfoliating properties of its Triple Purifying Complex help to remove dead skin cells and unclog pores, allowing those trapped hairs to break free. Pair with Buff & Brighten Ingrown Hair Pads daily to keep those ingrown hairs from coming back.
2. For Razor Bumps
Razor bumps are a super common concern after shaving, and can leave you feeling itchy and irritated - not to mention the red, pimple-like bumps. Anybody who shaves is at risk for razor bumps, but naturally curly hair (like pubic hair) is more prone. If you're looking for someone to blame for your razor burn troubles, the most likely culprit is your razor itself. A dull razor can injure the hair follicle during the actual act of shaving and lead to annoying bumps. Consider Bikini & Body Bump Eraser your secret weapon against razor bumps. Packed with powerful actives that target impurities, this spot treatment leaves skin clear, calm, and smooth. Plus, it's clinically proven non-irritating on intimate skin so you know it's safe to useanywherebumps pop up.
3. For Buttne
Buttne, or acne on your booty, can be super frustrating. And it always seems to pop up at exactly the wrong time! Fortunately, SweetSpot Labs Bikini & Body Bump Eraser is here to help. That's right, this spot treatment isn't just for your intimate skin - use it wherever you need it! As soon as you spot a bump on your bum, apply and let dry. Breakout-fighting superstars like azelaic acid, salicylic acid, and niacinamide help clear bumps fast. Repeat 1-2 times a day to say goodbye to buttne and hello to smoother, clearer skin.
4. For Bacne
Speaking of breakouts on your backside… bacne, or acne on the back, is another skin concern Bikini & Body Bump Eraser has covered. Gentle exfoliation purifies pores and removes dead skin cells that can contribute to breakouts. Some bacne might actually be fungal folliculitis - which is caused by Malassezia yeast rather than bacteria. Bikini & Body Bump Eraser is free from common Malassezia yeast triggers to help you break free from the frustrating cycle of folliculitis breakouts. If you're looking for other folliculitis safe solutions, check out Microbiome Balancing Wash!
Whether you've got a bumpy bikini line or a booty breakout threatening to ruin your beach trip, Bikini & Body Bump Eraser has you covered.