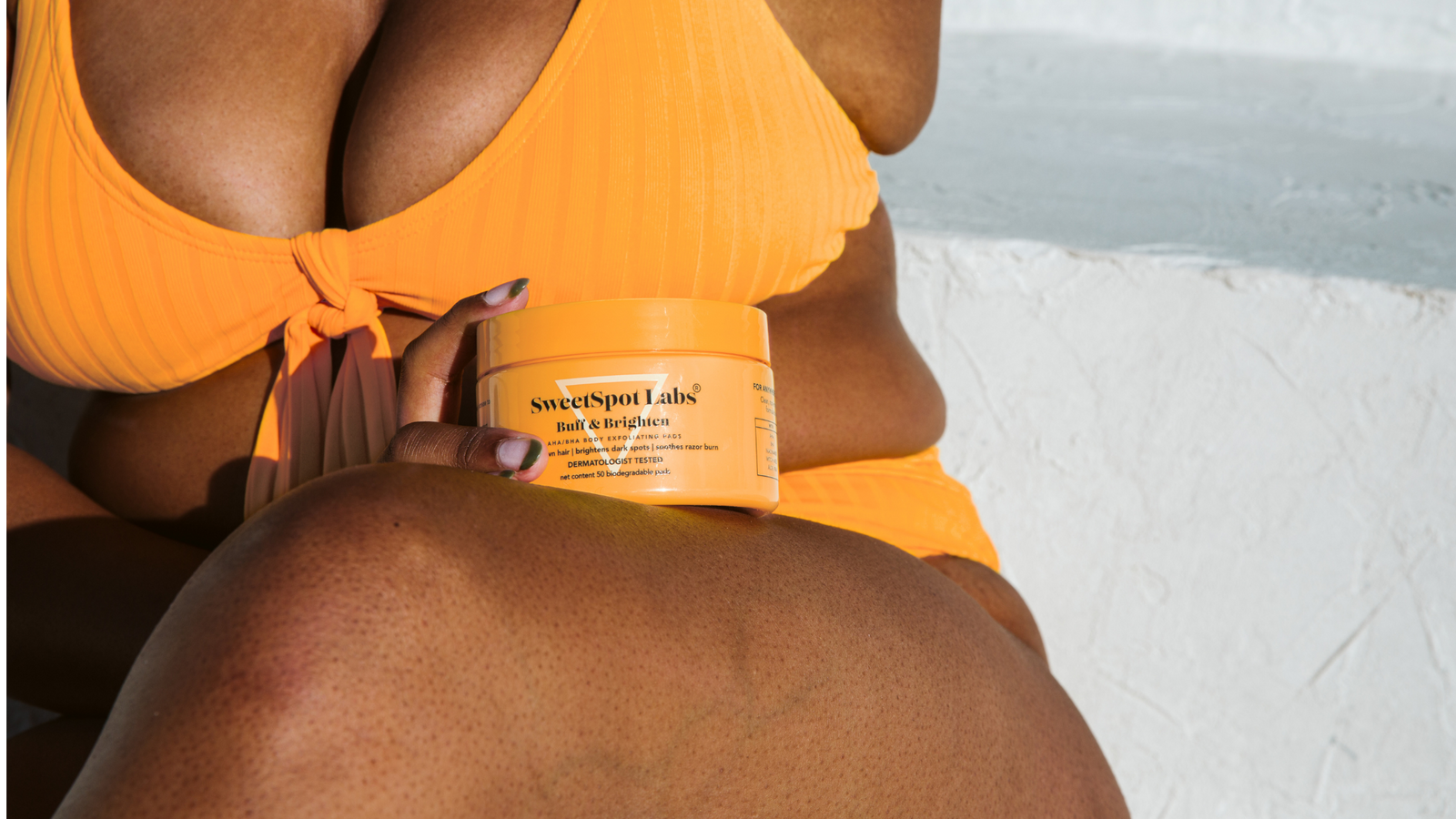 Ready to say goodbye to those pesky ingrown hairs and hello to silky-smooth skin? We've got you covered with our top tips for using Buff & Brighten Ingrown Hair Pads! Get ready to rock your summer wardrobe with confidence. From banishing bikini bumps to diminishing dark spots, we've curated a list of six tips that will help you get the most out of our best-selling exfoliating pads.
How to Use Buff & Brighten
Swipe a pre-saturated pad over dry skin to prevent buildup from trapping hair under the skin. That's it! No scrubbing, no mess. Allow your skin to dry completely for the AHA and BHA to work their magic. 
For best results, use Buff & Brighten daily. Each jar contains 50 biodegradable, single-use ingrown hair pads which means you get almost two months worth of use out of every purchase.
Where to Use Buff & Brighten
Because Buff & Brighten is pH-balanced and clinically proven non-irritating on intimate skin, you can feel safe using it anywhere you experience ingrown hair, razor bumps or dark spots. Under your arms? Yep. On your face or neck? Sure! Legs? You betcha. And, of course, your sweet spots.
When to Use Buff & Brighten
1. Before Shaving
If you shave, you can use Buff & Brighten beforehand to help loosen debris and dead skin cells that can lead to clogged pores and ingrown hair. Just be sure to leave shaving for last in the shower to allow the warm water to soften skin, open pores, and prep skin for a smooth shave.
Want even more protection from bumps? Use Microbiome Balancing Wash as shaving cream for ingrown hair and razor bump prevention. 
2. Before Waxing
Buff & Brighten is beloved by waxing studios and estheticians alike. But you don't have to be a pro to get the smoothing benefits of these ingrown hair pads! Simply use the night before your wax to prep your skin and voila - the smoothest wax of your life.
Remember: estrogen levels drop before your period, causing a weaker skin barrier & more sensitive skin. If you menstruate, avoid waxing at the beginning of your cycle for less "ouch."
3. After Waxing
Waxing aftercare is key to achieving the best results possible. 24 hours after your wax, use Buff & Brighten daily to help prevent ingrown hair & dark spots.
How to Fade Dark Spots
1. Identify the Cause
There are several underlying factors of dark spots and discoloration, but one of the most common is inflammation. Known as post-inflammatory hyperpigmentation (PIH), this condition is the result of injury to the skin, like the kind that occurs when you shave or wax repeatedly.
2. Use Buff & Brighten
No amount of scrubbing will get rid of those dark spots. Physical exfoliation can irritate the skin and create more PIH. For brighter, more even toned skin, you want to go for a chemical exfoliator like the salicylic acid in Buff & Brighten to help fade the appearance of dark marks over time. Keep in mind that the longer the dark spots have been there, the longer it will take to see improvement.
3. Keep It Light!
Remember, skin injury and irritation can trigger PIH - pressing Buff & Brighten pads harder on your skin willnothelp with brightening. In fact, it will most likely make discoloration worse. So, always use a gentle sweeping motion.