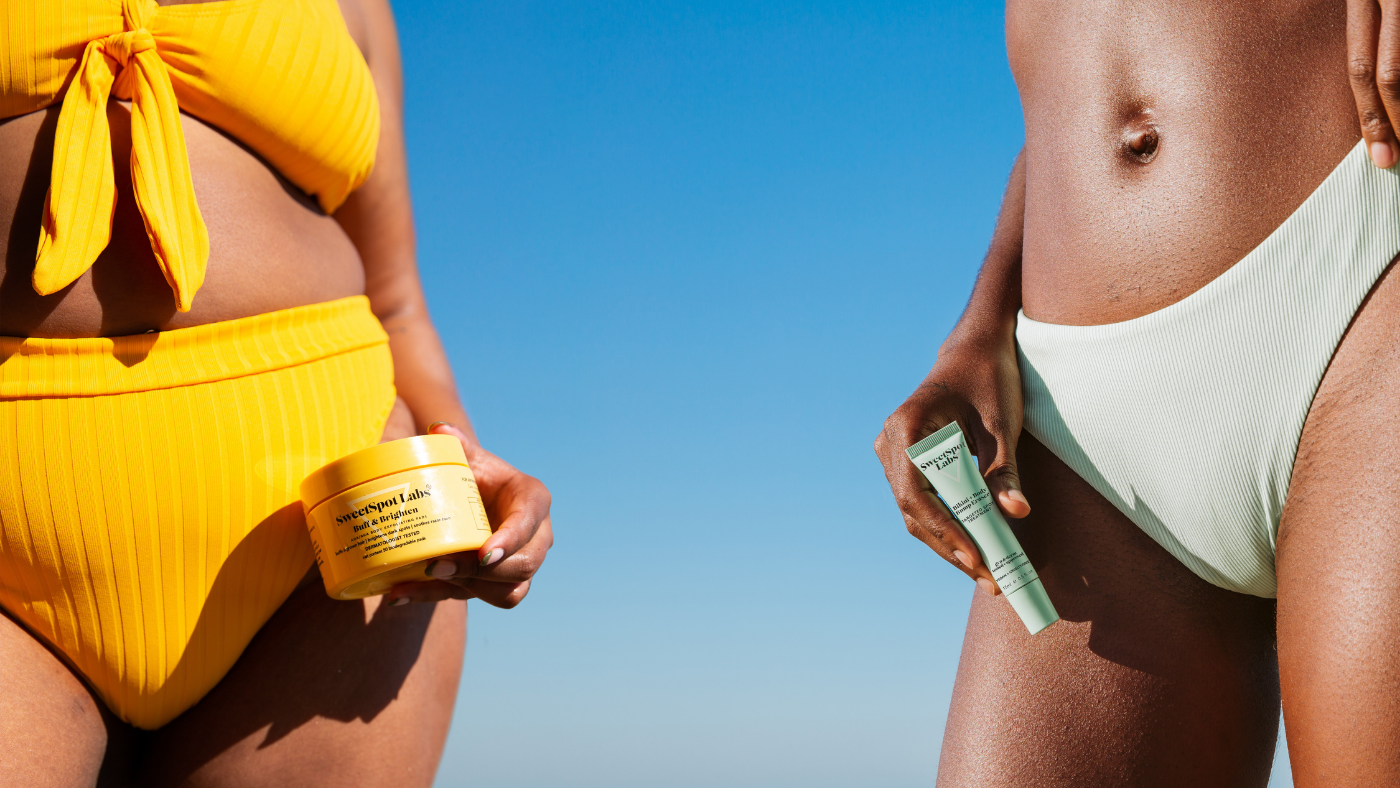 Bumps and blemishes always seem to pop up at the worst possible time - right before a beach vacay, pool day, or boat ride. Whether it's ingrown hair, razor bumps, or body acne, we've got solutions to help you enjoy smooth skin all summer long (and beyond!).
What is Bikini & Body Bump Eraser?
Bikini & Body Bump Eraser is a powerful spot treatment that clears bumps and blemishes fast. In fact, 89% of women surveyed agreed it cleared bumps in just 3 days*. How does it work? The secret is in the ingredients! Azelaic acid, niacinamide, salicylic acid and kaolin clay combine to target:
Ingrown hair bumps

Body acne (boobne, buttne, bacne)

Folliculitis
*In a consumer panel of 30 women over 2 weeks of use on bikini line
What is Buff & Brighten?
Buff & Brighten daily exfoliating pads help prevent new bumps from forming by combining both physical and chemical exfoliation. The textured pads buff away surface-level debris while AHA & BHA help unclog pores and remove excess sebum to help prevent:
Razor bumps

Razor burn

"Chicken skin"

Strawberry legs
How do you use them?
Step 1 - Buff & Brighten
Swipe a Buff & Brighten pad across clean, dry skin 3x per week or daily if your skin tolerates it well. Allow to dry completely to allow AHA & BHA to work their magic!
Step 2 - Bikini & Body Bump Eraser
Anytime you see a bump, squeeze a pea-sized amount onto a clean finger & apply to clean, dry skin. Allow to dry completely before wiping clean, or leave on overnight.The mineral-rich green clay formula acts as a color corrector to help neutralize the look of red blemishes.
Each of these SSL favorites is amazing on its own, but even better together! Check out our bundles to say goodbye to bumps and blemishes for good.
SHOP THE BUNDLE