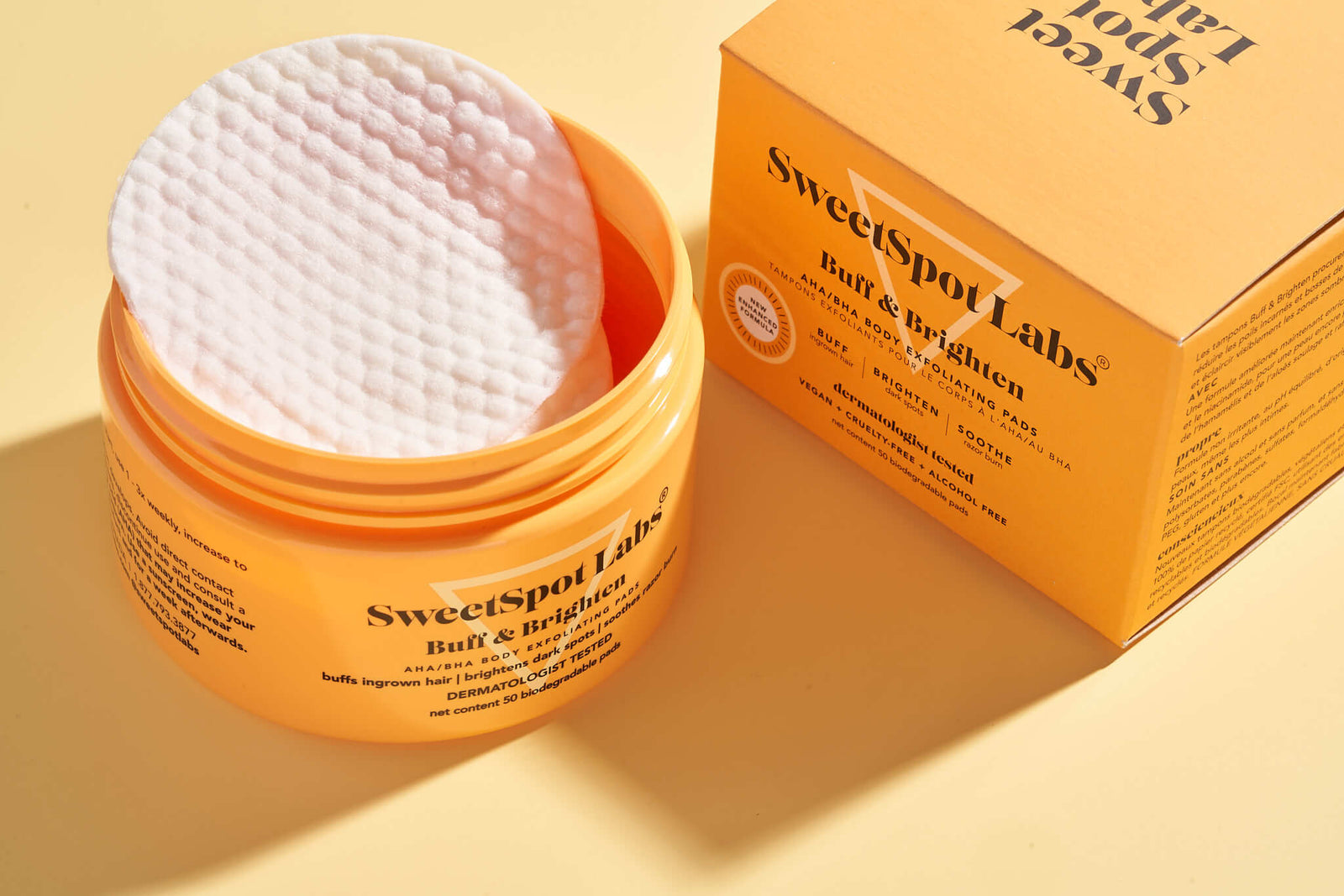 Our best-selling ingrown hair pads just got even better! Whether you use Buff & Brighten for ingrown pubic hair, razor bumps, or dark spots, the new & improved formula will deliver better results and (of course) zero irritation or drying.
What's new?
We kept everything you love about our AHA BHA pads and made a few improvements. Here's what has changed about Buff & Brighten.
Triple Exfoliating Complex
The new Buff & Brighten is now packed with 3X active exfoliants for powerful results.This unique blend of Lactic (AHA), Glycolic (AHA), and Salicylic (BHA) Acid was specifically formulated to deliver effective multi-level intimate skin exfoliation. 
The different molecular sizes of the three acids work together on both the surface & deeper layers of skin to reveal clearer, smoother, brighter-looking skin.
Lactic Acid

:

smooths surface bumps by removing build up, unclogging pores, and sloughing off dead skin cells that trap hair

Glycolic Acid

:

helps prevent future 

ingrown hairs

by speeding up the skin's natural sloughing process

Salicylic Acid:

fades 

hyperpigmentation

over time by traveling deeper to encourage continuous skin resurfacing
Wondering whether or not it actually works? Don't take our word for it! In a 4-week consumer study of 35 women:
3 out of 4 agreed the new Buff & Brighten significantly:
Reduced ingrown hairs

Reduced razor burn

Brightened dark spots
All that exfoliating power needs balance! That's why we've added skin-soothing Niacinamide to the Witch Hazel and Aloe Vera in Buff & Brighten. This blend of essential nutrients helps prevent razor burn and leaves intimate skin feeling calm and refreshed.  
Like all SweetSpot Labs products, Buff & Brighten AHA BHA pads are clinically tested by unbiased gynecologists and dermatologists and proven non-irritating on intimate skin. Our ingrown hair pads are formulated without common toxins, allergens, irritants, and hormone disruptors. The new Buff & Brighten is also now free from alcohol, fragrance, and common yeast triggers to be even sweeter on skin.
When we know better, we do better. That's why Buff & Brighten pads are now biodegradable and can be placed in the trash. The same goes for the 100% recycled, naturally biodegradable paper carton. And the jar? It's now made from 30% PCR (post-consumer reclaimed/recycled) plastic. 
Click below to shop the new and improved Buff & Brighten and be sure to let us know what you think!